Experian Jobs
Receive alerts when this company posts new jobs.
About Us
Industry

I/T & Computer Services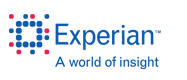 Experian® is the leading global information services company, providing data and analytical tools to clients in more than 65 countries. The company helps businesses to manage credit risk, prevent fraud, target marketing offers and automate decision making. Experian also helps individuals to check their credit report and credit score, and protect against identity theft.

Careers at Experian
Do you want to make a difference? Experian employs approximately 15,500 people in 38 countries worldwide. So no matter what your aspirations may be, our global span and large size offer many opportunities to help you fulfill them.
Your potential, our commitment, Experian's future. As the world's largest information provider, we offer strategic support that helps our clients target, acquire, manage and develop profitable customer relationships. Experian® is not just a credit reporting agency, a direct marketer or a database marketing company. We are a total information services provider. Experian is also a leading provider of information sold directly to consumers, which enables them to better manage their financial lives. We are focused on understanding and achieving client objectives while delivering high-quality, actionable results.
Benifits
We offer an exceptional employee benefits package including insurance offerings, 401(k) plan, Flexible Time Off, tuition reimbursement and additional perks.